Foodscale Hub dobitnik priznanja za izuzetan doprinos kampanji "Spasimo hranu"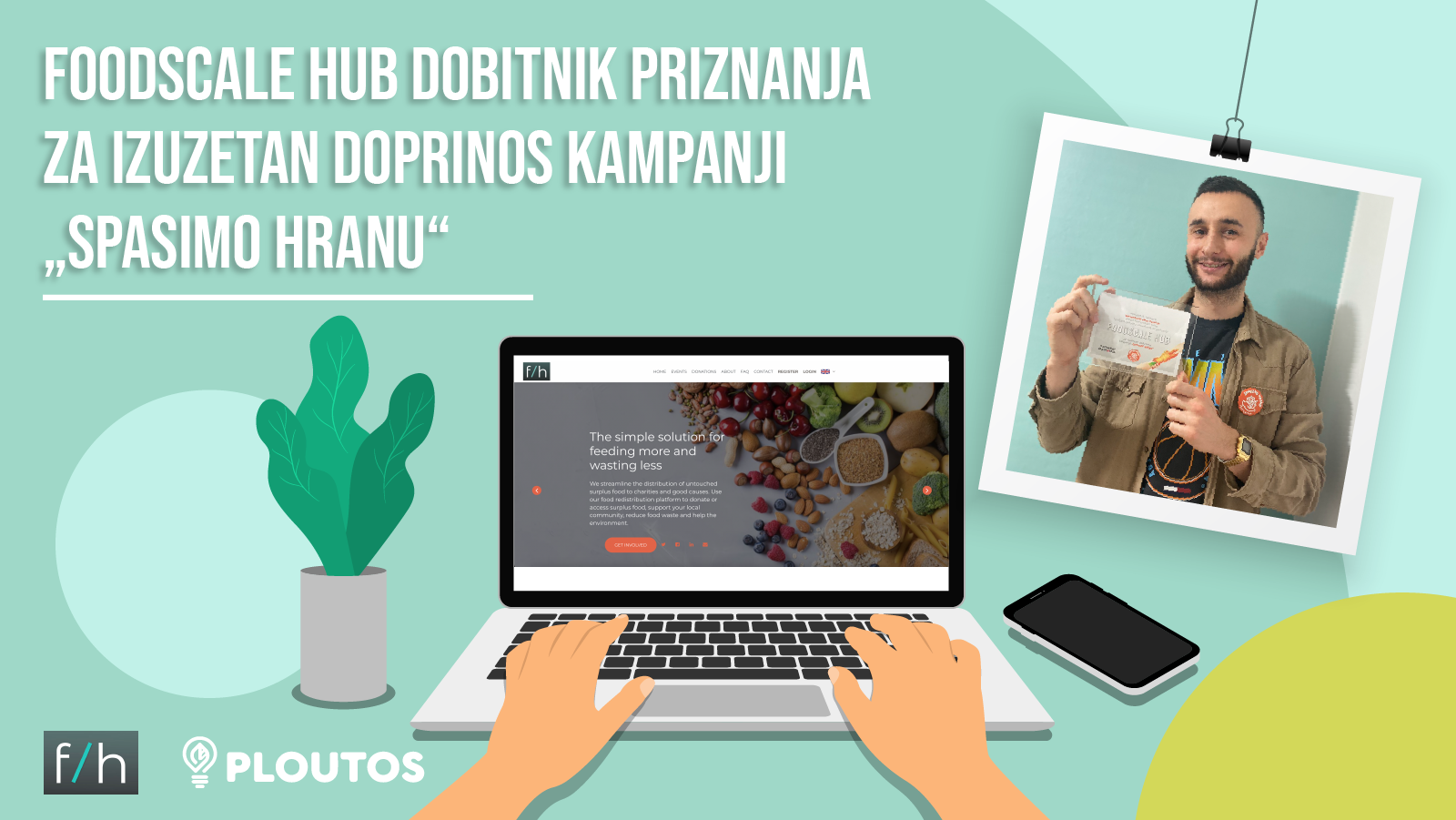 Beograd – 9. oktobra 2021. godine Koalicija za dobročinstvo i Srpski filantropski forum obeležili su četvrti po redu Nacionalni dan davanja, uz podršku Američke agencije za međunarodni razvoj (USAID), odajući priznanja kompanijama (34), organizacijama civilnog društva (12) i medijskim kućama (12) koje su dale najznačajniji doprinos kampanji "Spasimo hranu, spasimo humanost", ili su podržale pojedinačne inicijative u okviru kampanje.
Povodom Nacionalnog dana davanja, Foodscale Hub primio je Priznanje za izuzetan doprinos kampanji "Spasimo hranu". Priznanje dolazi kao rezultat intenzivnih aktivnosti na platformi FoodSHare koja se realizuje u okviru projekta PLOUTOS.
"Ovogodišnja tema povećanja donacija hrane i smanjenja bacanja hrane potpuno je u skladu sa američkim vrednostima i običajima koje svakodnevno praktikujemo i negujemo", rekao je Entoni Godfri, ambasador SAD u Srbiji.
Organizacije i kompanije koje su dobile priznanja su podržale Nacionalni dan davanja i kampanju velikodušnim novčanim donacijama i/ili donacijama u hrani koje će biti podeljene u vidu paketa osnovnih namirnica najugroženijim građanima u Srbiji. I dok se očekuje da će u okviru ove kampanje biti sakupljeno dovoljno hrane da zadovolji osnovne potrebe hiljada građana u narednih nekoliko meseci, glavni cilj je osigurati da u budućnosti donacije hrane postanu pouzdan izvor osnovnih namirnica onima kojima su neophodne.
Dok u Srbiji, 480.000 ljudi živi na granici apsolutnog siromaštva, prema procenama u našoj zemlji se baca dva miliona kilograma hrane dnevno. Uprkos tome što se hrana sve više donira, a proizvođači hrane i trgovci žele da doniraju viškove hrane narodnim kuhinjama, bankama hrane i dobrotvornim organizacijama, količina hrane koja se donira i dalje čini samo mali deo u ukupnom višku jestive hrane dostupne u Srbiji. Prema analizi koju su sproveli Forum za odgovorno poslovanje i Koalicija za dobročinstvo, donacije hrane u Srbiji bi mogle da budu uvećane na godišnjem nivou za vrednost od blizu 160 miliona dinara (na ukupno 700 miliona dinara), ukoliko bi bio ukinut PDV na donacije hrane.
"Nama je posebno drago što se ove godine priključio i podržao Nacionalni dan davanja ovako veliki broj organizacija iz različitih sektora poslovanja, to pokazuje da smo zajedno jači. Ipak, najznačajniji pomak u rešavanju ovog problema bi bio napravljen ako bismo uspeli da najzad rešimo pitanje ukidanja PDV-a na donacije hrane", rekao je Veran Matić, izvršni direktor Srpskog filantropskog foruma.
Nacionalni dan davanja i kampanja "Spasimo hranu, spasimo humanost" se realizuju u sklopu Projekta za unapređenje okvira za davanje, koji podržava Američka agencija za međunarodni razvoj (USAID), a koji sprovodi Koalicija za dobročinstvo, na čelu sa Fondacijom Ana i Vlade Divac. Ostali članovi Koalicije su Trag fondacija, Catalyst Balkans, SMART Kolektiv, Srpski filantropski forum, Forum za odgovorno poslovanje i Privredna komora Srbije. Za više informacija o kampanji "Spasimo hranu, spasimo humanost" posetite https://spasimohranu.rs/.
On the occasion of National Giving Day, Foodscale Hub received Recognition for its outstanding contribution to the "Save Food" campaign. The recognition comes as a result of intensive activities on the FoodSHare platform, which is developed within the PLOUTOS project.