FoodSHare: Organske namirnice lako dostupne najugroženijim građanima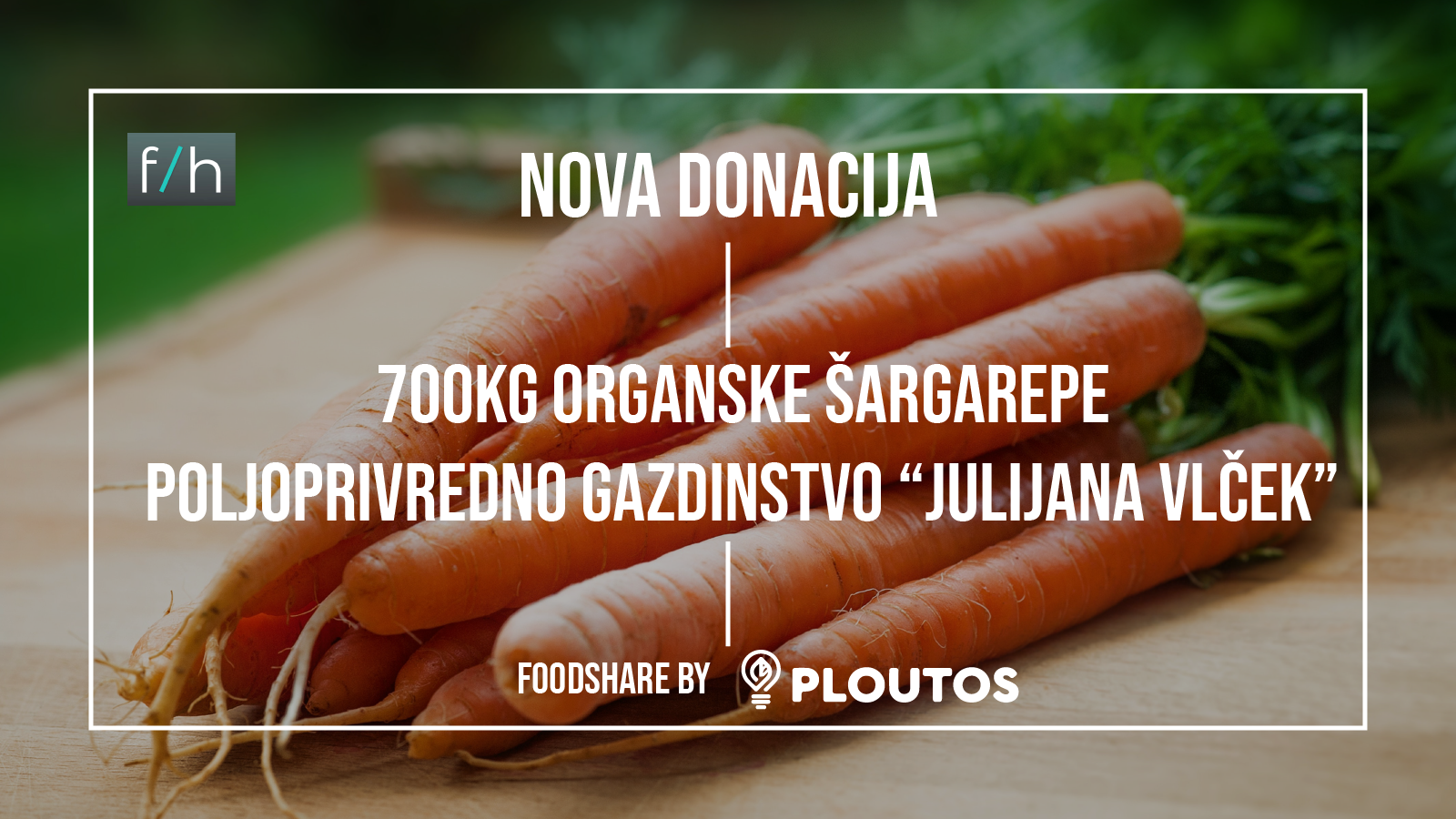 Zdrava i pravilna ishrana je od neizmerne važnosti za svakog čoveka. To ne znači samo unos raznovrsne i bogate hrane, već posebno znači unos hrane koja je prirodna i nije hemijski tretirana.
Od sada i korisnici narodnih kuhinja imaju pristup zdravim namirnicama. Za to su se pobrinuli Poljoprivredno gazdinstvo "Julijana Vlček" iz Pivnica i FoodSHare plaforma, putem koje je donirano 700kg organske šargarepe Crvenom krstu Bačka Topola.
Prema istraživanju sprovedenom od strane Ujedinjenih nacija, u svetu se baci 931 milion tona hrane svake godine. Procenjuje se da proizvođači hrane, uključujući industrijske i poljoprivredne proizvođače čine čak 26% ove količine, dok trgovinski lanci i distributeri imaju svoj udeo od 13%. Negativan trend bacanja hrane važi i za našu zemlju, budući da se u Srbiji na godišnjem nivou baci preko 726 196 tona hrane.
Naša FoodSHare platforma pomaže u rešavanju ekološkog i društvenog problema bacanja hrane. Uz pomoć 6.9 miliona evra izdvojenih za projekat Ploutos iz sredstava Evropske Unije u okviru programa Horizon 2020, čiji je platforma deo.
Više informacija o tome kako možete da se pridružite našoj FoodSHare zajednici, bilo da ste proizvođač ili humanitarna organizacija, pronađite na linku OVDE.
O našoj platformi i njenim aktivnostima za portal Biznis.rs je govorio naš kolega Vukašin, ceo članak možete pročitati OVDE.
English translation:
From now on, the users of public kitchens also have access to healthy food. The agricultural holding "Julijana Vlček" from Pivnice and the FoodSHare platform took care of that, through which 700kg of organic carrots were donated to the Red Cross of Bačka Topola.
Our FoodSHare platform helps solve the environmental and social problems of food waste. With the help of 6.9 million euros allocated for the Ploutos project from the funds of the European Union within the Horizon 2020 program, of which the platform is a part.
More information on how you can join our FoodSHare community, whether you are a producer or a charity, can be found at the link HERE.
Our colleague Vukašin spoke about our platform and its activities for the Biznis.rs portal, you can read the entire article HERE (in Serbian).