TITAN Project Announces 1.25M Open Call for Food Supply Chain Innovations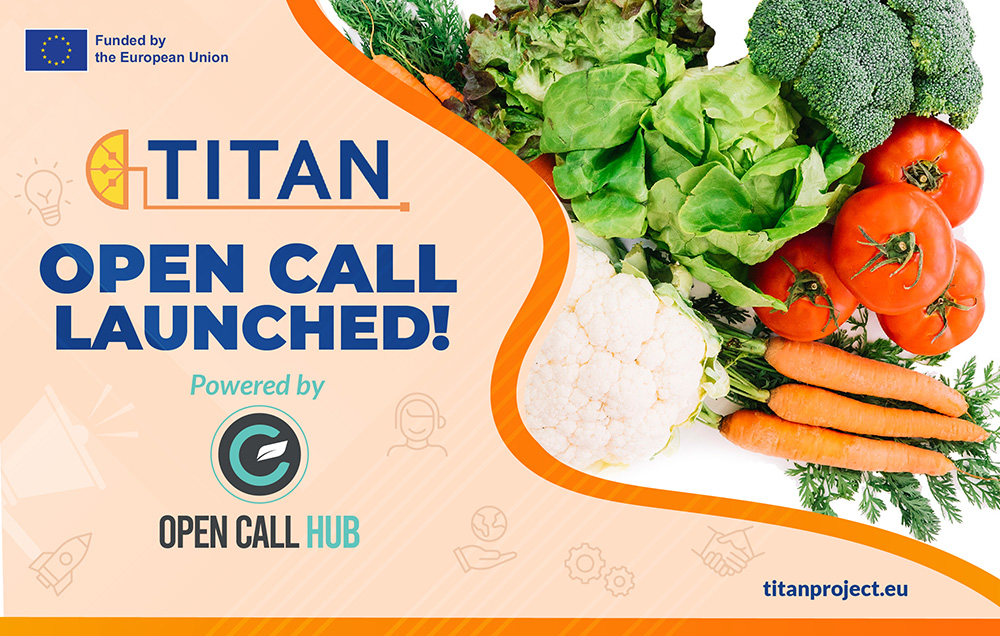 Calling AgTech and FoodTech SMEs!
TITAN project is excited to announce its Open Call with 1.25 million euros in funding. Submissions are now open from October 2, 2023, to December 1, 2023, at 17:00 CET (Brussels time).
Innovators, seize the chance to reshape the food supply chain. TITAN aims to foster transparency and value in the industry. We're seeking eight pioneering pilots, each receiving €156,330 in deliverable-based funding, with great ideas in the fields of Food Safety, Sustainability and Health.
TITAN has also identified four distinct Key Areas of Expertise where all consortium activities fall into:
Enabling consumers to make informed food choices

Facilitating supply chain sustainability

Development and implementation of new innovative technologies

Taking the food system approach
The Open Call will be conducted via the Open Call Hub, which is powered by the Foodscale Hub. The applicants are encouraged to publicly state their questions at the platform (not related to the very content of the applications) and receive answers, so that the relevant information will be made available to all interested applicants. The implementation phase will span 18 months, with pilots receiving funding in three installments.
Pilot projects will not only receive funding but will also enjoy exclusive access to the TITAN Business Support Programme, also powered by Foodscale Hub. This program will offer guidance from industry experts in essential areas such as financial management, marketing, intellectual property, and international collaboration, which will be given in three cycles.
Prospective applicants to the TITAN Open Call should consider the following:
• You have the flexibility to apply individually or as part of a small consortium with a maximum of three members.
• Your application should be in harmony with the food system approach.
• The proposal should encompass the development and application of advanced technology.
• Your solution should tackle challenges related to empowering informed consumer choices and/or bolstering supply chain sustainability.
• Ideally, the application should introduce an innovation capable of generating value through a viable business proposition.
Don't miss the opportunity and find all necessary information here. Submit your applications and contribute to a more transparent, sustainable, and safe future for food production and consumption.
As the Open Call Hub platform is customized and adjusted for each project with an Open Call where Foodscale Hub acts as the Open Call Manager, keep a lookout for future funding opportunities!