FOODSCALE HUB unveils its cutting-edge projects at SYNERGY DAYS 2023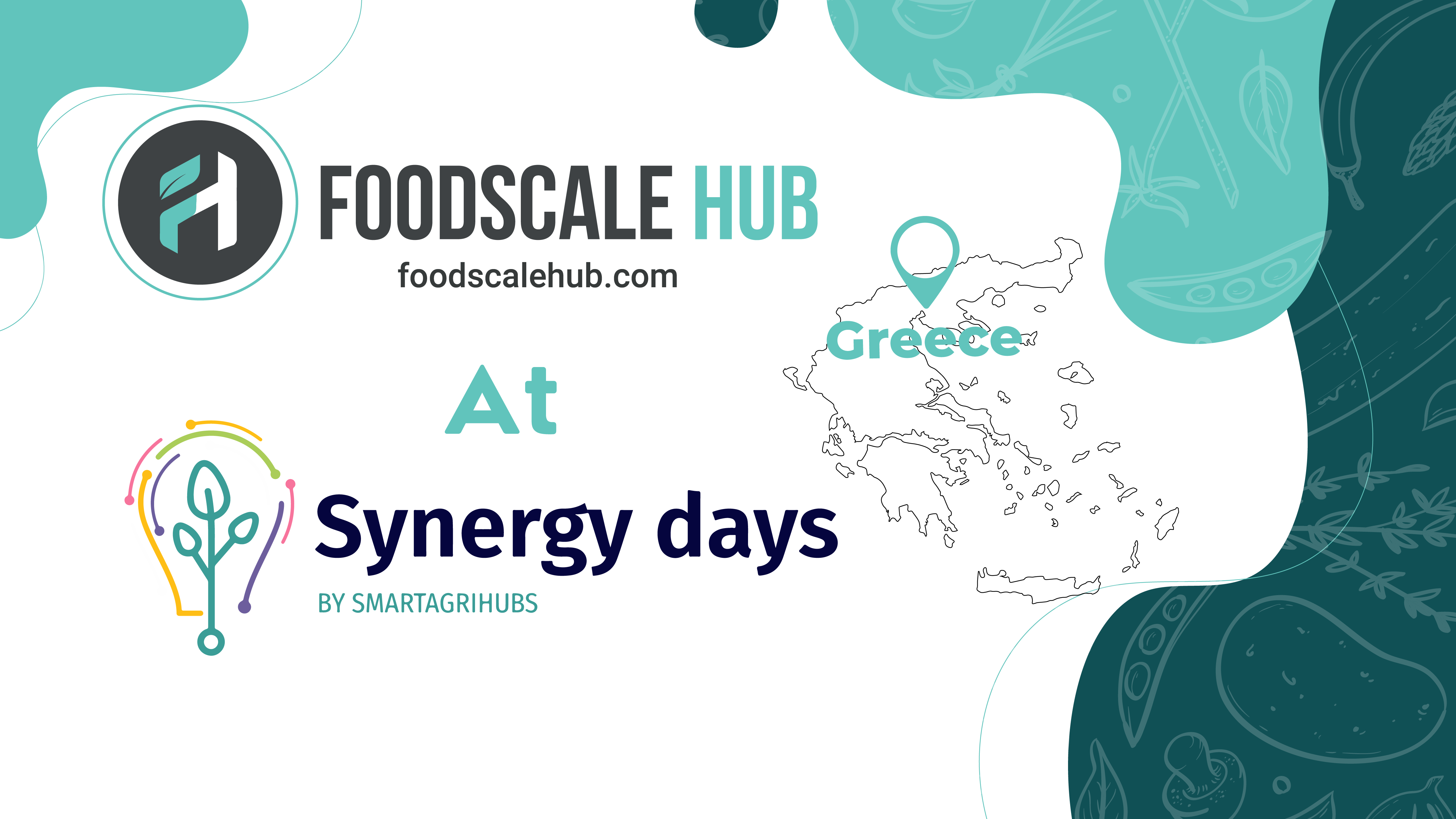 Foodscale Hub, an Impact Venture Studio that is working to accelerate the shift towards tech-enabled innovations in the agrifood sector, is set to dazzle visitors at Synergy Days with a showcase of its diverse projects. From groundbreaking workshops to interactive exhibitions, Foodscale Hub is harnessing the power of technology and entrepreneurship to prepare a fair, resilient and sustainable future for Europe's agri-food sector while constantly building a prosperous ecosystem of partners. The organization's dynamic lineup of projects that will be presented via booths or/and workshops at the Synergy Days includes QuantiFarm, Carbonica, Data4Food2023, ClimateSmartAdvisors, Icaerus, SmartDroplets, STELAR, Robs4Crops, InCiTiS-Food, CrackSense, Corosect, FrontAg Nexus, and AgriDataSpace.
Icaerus: Elevating European Agriculture with Drones
One of the highlights of Synergy Days is the workshop hosted by Icaerus, which will delve into "Emerging Drone Opportunities in Europe: the Case for Sustainable Agriculture and Rural Development." This session promises to shed light on the transformative role of drones in agriculture.
Data4Food2023: Connecting Stakeholders for Operational Food Systems
Data4Food2023 will present an intriguing overview of "Data Spaces as Enablers for Connecting Stakeholders in Operational Food Systems," highlighting the pivotal role of data in enhancing the efficiency of food systems.
QuantiFarm: Assessing the Impacts of Digital Technologies in Agriculture
QuantiFarm will lead a workshop focused on "Digital Technologies in Agriculture: A Framework to Assess Their Economic, Social, and Environmental Impacts," offering valuable insights into the complex world of digital agriculture.
STELAR: Novel Digital Infrastructure for Food Safety
STELAR's workshop, "Novel Digital Infrastructure for Food Safety: Solutions for a Rapidly Changing World," will explore innovative approaches to ensuring food safety in an ever-evolving landscape.
CoRoSect and Robs4Crops: Robotic Solutions for Agriculture
A joint workshop by CoRoSect and Robs4Crops projects will concentrate on "Effective Application Scenarios: Robotic Solutions for Crop Weeding, Spraying, and Insect Farming Automation," showcasing the potential of robotics in agriculture.
InCiTiS-Food: Empowering Collaborative Success
InCiTiS-Food's workshop, titled "Communication for Partnership: Empowering European and African Scientists for Collaborative Success," underscores the importance of collaboration in advancing agricultural research.
FrontAg Nexus project team will showcase the socio-economic and ecological effects of implementing the Water, Energy, Food, and Ecosystem (WEFE) Nexus approach within the agricultural production and policy contexts in the Mediterranean Regions.
CrackSense: Managing Fruit Cracking Intensity with Data
CrackSense will guide attendees through the workshop "Data-Driven Management of Fruit Cracking Intensity in Trees," offering solutions to a persistent agricultural challenge.
Carbonica and Climate smart advisors: Mind the GAP in Climate-Smart Farming
Carbonica's workshop will take a deep dive into "The Theory and Practice of Climate-Smart Farming: Mind the GAP!" – addressing climate-smart practices and their impact on agriculture.
AgriDataSpace: Shaping the Future of Data in Agriculture
AgriDataSpace project workshops will tackle several crucial topics, including "Co-designing Multi-Stakeholder Governance Schemes and Collaborative Business Models for the CEADS," "Ethical Aspects of Data (Self-) Sovereignty in Data Spaces," and "Technical Considerations for Data Spaces in Agriculture."
Presenting funding opportunities for agrifood innovations
The workshop "Funding opportunities for agrifood innovations: Cascade funding calls" will look at several Open Calls that are being launched within different Horizon Europe projects. These Open Calls provide unique opportunities to receive equity-free funding spanning a diverse range of AgTech and FoodTech sectors and across many distinct implementation scales. Participants will explore the key details of several Open Calls, including the context and background of the project launching the call, key timelines, available funding as well as who each Open Call is targeting and the types of activities that will be funded.
The funding calls to be presented are those associated with the ICAERUS, SPADE, CHAMELEON, TITAN, and INCITIS FOOD projects.
The aim of Foodscale Hub's presence at Synergy Days is to be a hub of innovation and collaboration.
Be sure to visit, explore the exhibitions, visit the booths of our projects and participate in our interactive workshops to stay at the forefront of the agricultural revolution.
Register for workshops now!