FOODSHARE: A year in numbers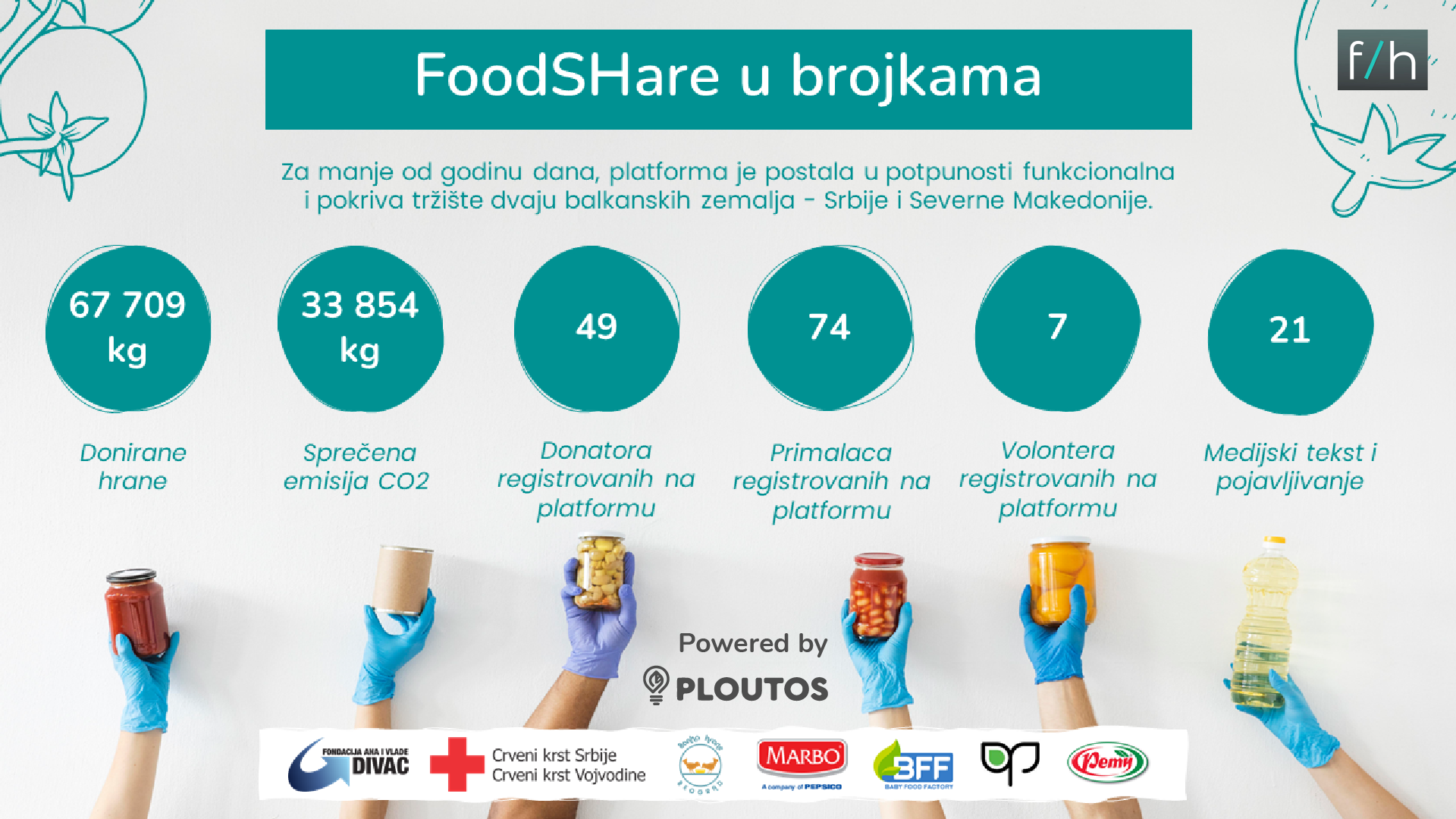 FoodSHare platforma za redistribuciju viškova hrane puštena je u rad u martu 2021. godine i od samog početka izazvala je veliko interesovanje javnosti, što samo pokazuje kolika je bila potreba za razvojem inovativnog sistemskog rešenja za donacije viškova hrane. Za manje od godinu dana, platforma je postala u potpunosti funkcionalna i trenutno pokriva dve balkanske zemlje – Srbiju i Severnu Makedoniju.
U periodu od svega 9 meseci uspeli smo da ostvarimo sledeće rezultate:
Putem FoodSHare-a donirano je 67,709 kg hrane, čime je potpomognut rad preko 40 humanitarnih organizacija
Sprečena je emisija 33,854 kg ugljen-dioksida  
Na platformu se registrovalo 49 kompanija – donatora hrane
Na platformu su se registrovale 74 humanitarne organizacije – primaoci donacija
Procese realizacije donacija potpomažu 7 volontera registrovanih na platformu 
O samoj zapaženosti platforme govori i činjenica da je vesti o postojanju i radu platforme podelilo preko 20 magazina, portala, časopisa, ali i televizijskih emisija
FoodSHare platforma podržana je od strane Banke Hrane Beograd, Crvenog krsta Vojvodine, Fondacije Ana i Vlade Divac, kao i brojnih proizvođača hrane, a neki od njih su Baby Food Factory, Marbo Product – PepsiCo, Organela, Pemy Family i mnogi drugi.
Budući da se bližimo kraju godine, kao i božićnim i novogodišnjim praznicima, tim povodom odlučili smo da podstaknemo darivanje i pozovemo sve zainteresovane proizvođače i kompanije da nam se priključe kako bismo ulepšali praznike što većem broju štićenika humanitarnih organizacija.
Registrujte se sada na: https://foodshare.foodscalehub.com/sr. Registracija je veoma jednostavna i korišćenje svih funkcionalnosti platforme je potpuno besplatno.
ENGLISH VERSION:
The FoodSHare platform for redistribution of surplus food was launched in March 2021 and has attracted great public interest from the very beginning, which proves how important it was to develop an innovative system solution for food surplus donations. In less than a year, the platform has become fully operational and covers the markets of two Balkan countries – Serbia and Northern Macedonia.
In a period of only 9 months, we managed to achieve the following results:
Via the FoodSHare platform, a total amount of 67,709 kg of food has been donated to more than 40 charity organizations
Emissions of 33,854 kg of carbon dioxide were prevented
49 food donor companies registered on the platform
74 charity organizations – recipients of donations registered on the platform
Donation implementation processes are supported by 7 volunteers registered on the platform
The news about the existence and work of the platform was shared by over 20 magazines, portals, journals and television shows
The FoodSHare platform is supported by the Food Bank Belgrade, the Red Cross of Vojvodina, the Ana and Vlade Divac Foundation, as well as numerous food producers, some of which are Baby Food Factory, Marbo Product – PepsiCo, Organela, Pemy Family and many others.
As we approach the end of the year, as well as the Christmas and New Year holidays, we decided to encourage donations and invite all interested companies to join us to make the holidays a memorable experience for as many protégés of humanitarian organizations as possible.
Register now at: https://foodshare.foodscalehub.com/. Registration is very simple and using all the functionalities of the platform is completely free of charge.