Kampanja "Spasimo hranu, spasimo humanost" i FoodSHare platforma udružuju snage u borbi protiv bacanja hrane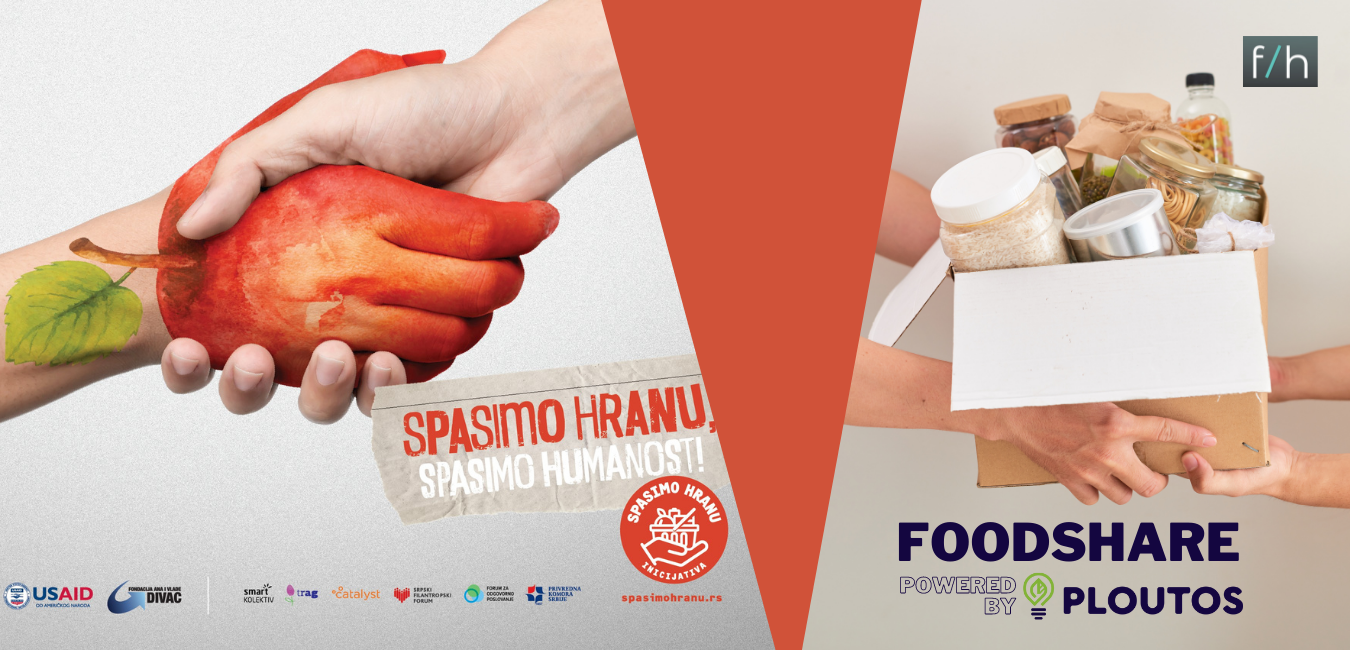 Uzeći u obzir činjenicu da se u Srbiji godišnje baci preko 2 miliona kilograma hrane, Koalicija za dobročinstvo predvođena Fondacijom Ana i Vlade Divac, uz finansijsku podršku Američke agencije za međunarodni razvoj (USAID), pokrenula je 23. avgusta kampanju "Spasimo hranu, spasimo humanost". Na granici siromaštva živi čak 7% stanovništva naše zemlje, mnogi od njih zavise od donacija hrane koje su trenutno nedovoljne. 
Foodscale hub se pridruzuje akciji sa platformom FoodSHare, razvijenom u okviru međunarodnog projekta "Ploutos". FoodSHare predstavlja jedinstvenu web platformu za donacije hrane koja povezuje sve relevantne aktere iz domena donacija hrane. Ona ima za cilj da automatizuje i digitalizuje procese preusmeravanja hrane i na taj način podstakne proizvođače i distributere da svoje viškove hrane doniraju onim građanima kojima je ta hrana preko potrebna. Te su se ovim povodom kampanja "Spasimo hranu, spasimo humanost" i FoodSHare plaforma udružili i odlučili da zajedničkim snaga pokušaju da povećaju svest građana o problemu bacanja hrane i nedovoljnih donacija hrane, ali i da doprinesu unapređenju praksi koje će podstaći povećanje donacija hrane.
Uprkos tome što se hrana sve više donira, a proizvođači hrane i trgovci žele da doniraju viškove hrane, tu dolazi do probelam PDV-a koji na donacije hrane, do čijeg rešenja bismo mogli doći bližom saradnjom svih uključenih aktera. Kako bi se stvorili uslovi da hrana umesto u otpadu, završi kao donacija onima kojima je zaista potrebna, neophodno je unapređenje zakonskih okvira koji ne destimulišu donatore. Prema rezultatima analize koja je sprovedena od strane Forum za odgovorno poslovanje i Koalicija za dobročinstvo, donacije hrane u Srbiji bi mogle da budu uvećane na godišnjem nivou za vrednost od blizu 160 miliona dinara (na ukupno 700 miliona dinara), ukoliko bi bio se problem PDV na donacije hrane rešio.
Kampanjom "Spasimo hranu, spasimo humanost", kao i našom FoodSHare platformom želimo da doprinesemo povećanju donacija hrane za najugroženije i smanjenju bacanja hrane koja je još uvek bezbedna za ljudsku upotrebu. Te pozivamo sve građane, kompanije, organizacije civilnog sektora, kao i medije da nam pruže veliku podršku i uključe se. 
Kampanja "Spasimo hranu, spasimo humanost" će trajati do oktobra ove godine, i obuhvatiće niz akcija doniranja hrane pred "Nacionalni dan davanja", kao i tokom samog dana koji se već tradicionalno održava 9. Oktobra. Dok je FoodSHare platforma uvek otvorena za sve donore hrane (poljoprivredni i industrijski proizvođači, distributeri, trgovinski lanci) i primaoce donacija (narodne kuhinje i druge humanitarne organizacije) i služi kao njihova tačka povezivanja u bilo kom trenutku.
Više o kampanji spasimo hranu pročitajte na linku: https://spasimohranu.rs/ 
Imate viskove hrane? Kontaktirajete nas putem: https://foodshare.foodscalehub.com/sr
The campaign "Save food, save humanity" was initiated by Coalition for Giving led by the Ana and Vlade Divac Foundation, with financial support from the United States Agency for International Development (USAID). On the occasion of the "National Giving Day", as well as during the day itself, which is traditionally held on October 9. Together with Foodscale Hub and our FoodSHare platform powered by international project Ploutos, we are fighting to make an impact in increasing food donations for the most vulnerable and reducing food waste that is still safe for human consumption.
Learn more and join us at https://spasimohranu.rs/ & https://foodshare.foodscalehub.com/sr!